This is the ultimate guide to the best online giveaway tools.
The hardest part for any website owner is how to grab massive traffic on their site. The internet is crowded with wise strategies to kickstart the number of visits to your site that never solves the problem. The primary way of solving this sort of trouble is by delivering pure gold to your audience; hence there is no easy way around it. The other option is venturing into giveaways and contests on your product site.
Never underestimate the prowess that comes from the integration of online contests and giveaways on your website. Expertly planned giveaway contests are a fantastic way of getting more audience to your WordPress site. All you have to do is purchase a simple giveaway program bot that will help you organize everything.
This article will provide you with excellent insights on the fantabulous WordPress online giveaway contest bots that will cure your low traffic headache.
This post contains affiliate links, which means I will make a commission at no extra cost to you should you click through and make a purchase.
What are the Best WordPress Giveaway Tools & Plugins?
Competitions have the magical ability to arouse the attention of people. They evoke the feeling of not wanting to be left out of what the others are doing. Contests create unending anxiety among the participants as they wish to know who won the awaited award. Everybody wants to get slammed with excellent products to simplify everything without having to shed a single penny.
Most onsite competitions aim to draw people into strengthening the popularity of the given website. This trick has been used by various companies who have since tasted the sweet fruits of onsite contests. All this is made possible via different WordPress add-ins that simplify the process.
They include the following: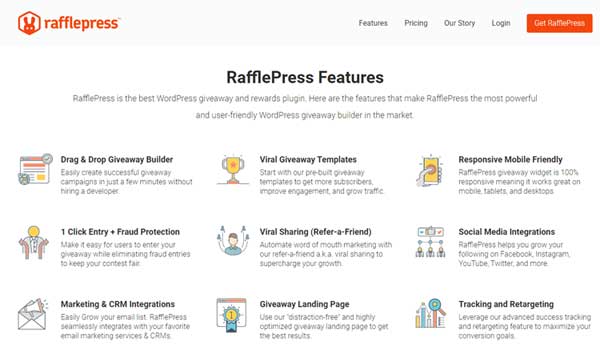 I believe that RafflePress is the most fabulous WordPress giveaway plugin in the industry. This tool grants you the ability to craft trendy competitions and giveaways on your site without much hustle. RafflePress comes with two forms of editions: free and paid forms, all of which offer amazing features.
What I love most about the tool is that it grants you the ability to grow your email reachability via email advertisement programs. Everybody gets some gain because RafflePress motivates your web guests to usher more visitors for an opportunity to win an award.
Key Features of RafflePress
RafflePress provides a free giveaway template that is predesigned.
The tool protects competitors from swindling, allowing for fair play.
It avails the ability to automate the beginning and closing time for the contest.
Has included social platforms to aid you in enlarging the volume of your enrollers.
Guidelines generator to aid you in crafting guidelines for your contest
Compatible with mobile device applications.
The personalized option that grants you access to manipulate the giveaway to align with your product is available.
Aim-dependent giveaway templates are available.
RafflePress Pricing
The cost of RafflePress depends on the edition you use.
There is a free edition for this tool.
The plus edition runs at $39.20 monthly.
The Pro edition: $79.20 each month
The Growth edition: $159.20 each month.
The Final edition: $359.20 each month.
Wishpond is an exceptional tool because it can deal with your enterprise's promotional needs while helping you organize communal contests. The plugin allows you to enlarge your fun base by crafting different competitions such as photography challenges, Facebook advertisements, and many more. The add-in is a perfect match for small-scale and middle-level enterprises.
Wishpond allows you to select one or more champions.
Wishpond allows your competitors to increase their winning chances by asking people to vote for them via the social community sharing options.
Wishpond can design homepages for your site.
Wishpond promotes your content on social community platforms.
It offers enhanced analysis systems that aid in regulating your contests.
The plugin comes with the ability to observe the number of guests to your site.
The tool has a cloud format that enables you to access your contests anywhere.
Wishpond has a reliable customer support panel to ensure smooth running.
Wishpond Pricing
There is a free edition of Wishpond.
The paid editions begin at $69 each month.
KingSumo is an add-in that assists you in crafting trendy sweepstakes to enhance your subscribers in a time-efficient manner. The editorial option allows you to customize and get your giveaways rolling.
The only action you have to take is to give a brief description of your giveaway and select the total number of desired champions. The tool is crafted for different types and sizes of enterprises, right from the small, middle level, and long forms.
Key Features of Kingsumo
KingSumo allows you to enlarge your email enrollers via trendy sweepstakes.
It provides simplified access for your users via a simple Facebook click.
It provides a free giveaway widget that you can place on different home pages.
KingSumo has a secure email authentication process for all users in that you can move straight to authenticate your email from your splashboard.
It allows you to set up beginning and closing dates for your competitions.
KingSumo's editorial tool allows you to craft your giveaways in a time-efficient manner.
KingSumo Pricing
There is a free edition available.
Payable packages cost between $19 per month(paid annually), and a WordPress plugin costs $198 for a 1-site lifetime license.
4. Gleam
Gleam is a WordPress giveaway maker that guarantees you the opportunity of gaining something in every contest you set up. You could enlarge your email enrollers or the number of your social platform followers using Gleam.
The tool has a distinctive character as compared to other plugins. It allows you to authenticate every act a user initiates on your contest; hence you detect if your competitors fulfill the deeds for your sweepstakes. The access process for fresh users is made easy via single clicks.
Key Features of Gleam
Ability to authenticate different user acts via the tool.
Gleam offers the ability to integrate email platforms.
Gleam allows guests to invite other people.
Gleam offers enhanced anti-swindling protection.
The tool allows you to control your competitions based on your conditions.
It is compatible with mobile device users with no flaws.
The plugin selects winners abruptly hence promoting equality.
Gleam Pricing
The pro package runs at $79 each month.
The Business package runs at $299 each month.
The Premium package runs at $749 each month.
5. Simple Giveaways
The simple giveaways tool is a great plugin that allows you to co-locate simplified giveaways that you can activate on various parts of your internet-based site, for example, on targeted pages.
The tool does all this without interfering with your website; hence you need not worry about inconsistent server response.
Key Features of Simple Giveaways
The ability to personalize giveaways via the organized champion announcements is available.
Simple giveaways allow you to select the beginning and closing dates.
It allows you to set the champion declaration date.
It allows you to select the emblem for your brand.
It grants you the ability to select pictorial to publicize on social community platforms, including (but not limited to) Facebook.
With every enrollment, you are alerted via email.
Simple Giveaways Pricing
There is a free edition and paid editions that begin at $69 each year.
6. Rafflecopter
Rafflecopter claims to be the most simplified provision for establishing a giveaway all over the globe. Rafflecopter works out best for developed users and is accessible as an onsite application.
Thus, you will be required to integrate the giveaway desklet into your WordPress site.
Key Features of Rafflecopter
Rafflecopter avails a free edition with impressive provisions.
Rafflecopter has an excellent customer care panel.
Rafflecopter is multilingual with languages such as (but not limited to) Portuguese, Italian, English, and others.
The user splashboard grants you access to regulate new users into your giveaway.
You can transfer giveaway components to a different suit, such as excel.
Rafflecopter allows you to personalize your giveaway time setting based on different locations.
It allows you to compose your beginner options.
Rafflecopter Pricing
There is a free edition, while the paid options begin at $13 and extend to $84.
7. WPcontest Creator
WPcontest creator is an excellent tool that allows you a large amount of freedom to personalize almost everything. The plugin grants you the ability to conjoin with reputable email resources hence enhancing your reachability.
You can also convey automated emails to your guests each time they enroll in your giveaway.
Key Features of WPcontest Creator
Wpcontest creator is a multilingual program that supports different languages.
The ability to conjoin with valuable email resources is available.
The program allows you to integrate a competitor attendance list enabling your enrollers to check their positions.
The program transmits an automated set of vital information to new guests to guide them on the contest.
The program is optimized to fit all types of devices that your enrollers are using.
The program gives you the ability to automate the beginning and closing dates for your contest.
WPcontest Creator Pricing
The cost begins at $69 and extends to $99 each year.
ShortStack sets up your competitions and advertisements rolling after a few minutes of setting up an account.
You choose one premade template from ShortStack or begin from zero to personalize it as per your wishes. The plugin allows you to locate your screenlet in any position you wish.
ShortStack avails your premade templates for your giveaways.
The tool provides competitive anti-swindling protection.
ShortStack makes the customer handling process easy.
The plugin offers you precise analysis techniques to control your promotions.
ShortStack Pricing
There is a free package available.
ShortStack paid packages begin at $29, Business at $99 and extend to $499 per month.
9. AgoraPulse
Besides being a social community management tool, AgoraPulse is also a platform that can enable you to create awesome contests on different social communities. Various enterprises use this product as a way of controlling their social community accounts.
AgoraPulse is effectively optimized to make sure it fits with all types of users without strain. The in-depth social community analysis tools make AgoraPulse a stiff competitor to other plugin tools.
Key Features of AgoraPulse
It is a social media contest platform
AgoraPulse automates Facebook content regulation.
AgoraPulse offers an in-depth Facebook analysis.
AgoraPulse can mark both entering and outbound work.
It offers you the chance to participate in every conversation via the inbox section.
It allows you to cooperate with your team effectively.
On the Twitter platform, it allows you to pay attention to crucial wordings.
On the Instagram platform, the tool allows you to observe hashtags.
It offers the ability to follow up on utterances and mentions.
AgoraPulse Pricing
There is a chance to try it without paying.
The medium package runs at $99 each month.
The large package runs at $199 each month.
The extra-large package runs at $299 each month.
The Enterprise package runs at$499 each month.
What is a Giveaway?
People know a giveaway as a provision that awards a gift to an individual from a large crowd of participants at a random selection. However, a giveaway is an advertisement tool employed by companies and enterprises. It serves the role of popularizing their products and the overall image.
Giveaways vary depending on the type, purpose, and company involved in the process. Many enterprises use giveaways to increase their sales level by creating a rapport with their audience.
For example, a motor vehicle company may offer a free set of tires to a buyer to encourage more sales. Similarly, a supermarket may provide a new commodity to seek the attention of the needed audience. Other parties may consider running competitions among their audience, where the selection of the winner has its basis on the portrayal of unique skills.
That is what giveaways revolve around; they seek to improve the audience's attention while increasing sales.
Why do I need to use Giveaway Plugins on the WordPress site?
The right selection of the perfect giveaway plugin for your WordPress site will save your energy and generate massive traffic for your website. Here are more reasons as to why you need to use giveaway plugins on your WordPress site.
1. You need to use giveaway plugins to boost your site traffic
People love participating in activities where they are confident that they might win something without coughing a single penny. That is why you should consider taking advantage of this opportunity by installing a giveaway add-in to help you craft a giveaway.
2. Use giveaway plugins on your WordPress site to protect your enrollers
We live in a funny world where some people want to take advantage of the innocent. That is why giveaway picker plugins step in to safeguard and protect your guest against fraud. Hence, the more reason you have to use them.
3. Use giveaway plugins to get more in-depth analysis regarding your activities
Giveaway tools allow you to get a more detailed report of all the activities occurring around your contest. You monitor the process right from the beginning till you choose a champion. In short, these tools allow you to control every aspect hence having fairness in your contest.
4. Use giveaway plugins to increase your reachability
Giveaway Softwares allocate you the privilege of connecting with more people. You can do this via automated email integrations and social sharing platforms that entice more guests to participate in your contest hence enlarging the number of people you convince.
5. Using giveaway plugins will save you from getting exhausted
Do you imagine what it would be like if we had to do everything manually? Giveaway bots and tools protect you from outdated and tiresome methods. They conduct everything automatically, and the only action you have to take is to program them.
What are the Benefits of Online Giveaway Tools?
1. The online giveaway tools will enable you to increase your email followers
All this is possible because your WordPress guests get alerts urging them to subscribe to your email pamphlet to receive contest invitations. Once they heed those directives, they become part of your followers via an email catalog. Know how to do it here.
2. The contest apps aid you in generating targeted awareness for your product
Trendy and convincing giveaways enabled via giveaway add-on tools attract people into buying your idea. In the process, your enterprise becomes famous hence crafting awareness.
3. Allows you to enlarge your social community supporters
People want to be associated with fancy things occurring around them. That is why giveaway tools will enable you to share your competitions on social platforms. The results are, many people join in the attempt to win something, and therefore, you get many followers.
4. Helps you uplift your site's traffic
Because people love winning stuff, onsite giveaways and competitions are a perfect way to hike your website's traffic. That is possible via sharing on social community platforms and direct invites to your contest.
Things to consider when choosing a WordPress Contest Plugin
There are various WordPress add-in alternatives available that simplify the giveaway process. However, they all differ in regards to the features they portray. Below are some of the issues to consider before making a choice:
1. Simplicity in using the plugin
There is no need to get an add-in that you are cannot handle effectively. You have to select something simple for you to use as well as your prospective guests.
2. Consider the ability of the plugin to conjoin with your email service creator
We all wish to enlarge the number of people we attract to get into the competition via our email pamphlets. Owing to that reason, you need to choose a tool that conjoins with your email provision.
3. A great customer care panel
Everything develops some trouble at a particular time in its lifetime. That is why you need to select a tool whose customer care panel is reputable and ready to help. You can learn about the history of the customer team by visiting creditable review ages online to see what other users say about your target.
4. Consider the cost
You do not want to spend your cash on a tool that you cannot afford. However, do not rush to the use of a cheap option; remember that cheap is expensive. Choose a pocket-friendly plugin that supports all your dream via essential elements.
5. Check the ability of your guests to usher other people to your contest
Guests can help enhance your brand within a short time. They can welcome other users to your contest by spreading the gospel of your brand. Therefore, you need to select a tool that bears the invitation element among its features. As a result, more people will flock to your competition than before.
Which is the Best Online Giveaway Bot?
I firmly believe that RafflePress is the best online giveaway plugin owing to the great elements it offers. The following are the explanations as to why I recommend Raffle Press.
The simplicity portrayed in the plugin allows every person to comprehend and use it. It will enable you to craft and develop giveaways most efficiently with no struggles.
RafflePress is pocket friendly as compared to all other plugin solution available. Thus, you do not have to pay for something you cannot afford because RafflePress provides what you need.
The tool is made compatible with mobile devices via the crafting of a mobile application. That has enabled more people to access different contests via RafflePress.
Giveaway Tools & Plugins FAQ
Between the free edition and the premium editions, which should I use?
Some free edition tools can do a good job more than the paid editions. However, I would recommend that you use a paid version that suits your pocket and needs. Paid forms have better strategies for helping you out.
Do I need to use a giveaway plugin for my WordPress site?
Yes, you need to use a giveaway add-in for your WordPress site. The plugin will save your time, cost, and efforts in planning a good competition.
Can my contestants be swindled when competing for a giveaway on my site?
It all depends on the type of add-on you use. Some of the plugins have minimal security measures. You should aim to use a plugin with a robust protection policy to combat online crime.
Are giveaways a sure way of gaining followers?
With giveaways, you are sure of welcoming some new people on your team. The more people contend for your award, the larger your follower number becomes.
What type of giveaways awards should I give to my champions?
The type of award that you give to your winners entirely depends on the kind of enterprise you are and the aims that guide you. That is why some companies will provide small, medium, and significant awards depending on the established guidelines.
Conclusion
Folks! You know, have exceptional insights on the WordPress giveaway tools in the arena. Apply the above knowledge to your context, evaluating every bit. Let your aims and needs guide you by preparing to grab the most terrific traffic on your website.
Try out the "miraculous" giveaway remedy and witness the tremendous growth of your brand.
Good luck!