Did you know that you could use your talent to create an appealing podcast? Have you always wondered how you could make it in Podcasting? Do you have a passion for Podcasting, but you do not know how to go about it? Are you creative enough to craft some fantastic content able to mesmerize the whole world?
Do you want to create stiff competition with the most Prolific Podcasters that have ever existed? Are you that person who loves doing their work in a unique style?
Podcasts are acquiring fame every single day. Inevitably, most content crafters are using this provision to propagate their work to their targets. That is why I ventured into research to come up with the following details to empower you with all you need to rock and roll in the Podcast arena.
This article will provide you with all the knowledge you need to have with regards to Podcasts.
What are the Best Podcast Hosting Sites(Paid)?
The most appealing paid Podcast hosting websites include:
I prefer this company to other podcast hosting providers for several explanations. Could you believe that these guys have been around for the last 11 years? I love this site the most because they have an excellent user interface that makes it easy for newcomers to use.
Key Features of Buzzsprout Podcast
A good and easy-to-navigate user splashboard is available all for you.
You get complete guide tips to help you use Buzzsprout.
Buzzsprout provides all the things you entirely need in loading and disseminating your sound files to your target audience.
Buzzsprout offers different analyses- You can track down how many people listened to your chapters and their countries of origin.
Buzzsprout allows you to improve the quality of your sound files.
Ability to integrate an audio player on your site
Pros
Great user interface.
Excellent customer care.
Ability to integrate site player.
Cons
Enhanced elements make it complicated for newcomers to understand.
Buzzsprout Pricing
Buzzsprout provides a free package that allows you to load sound files into the site for two hours daily for three months.
Purchased packages begin at $12 every month for every three hours of loaded sound files.
A six-hour package goes for $18 each month. Another package runs at $24 each month, providing twelve hours of loading content.
I advise that you begin with the free edition before moving to the paid packages depending on the number of hours you wish to load files each month.
PodBean has been functional for close to 14 years now. Like Buzz sprout, Pod Bean is one of the most famous sites ever in the sound file hosting industry. This company provides free and purchased packages for all its users.
PodBean provides a free package that allows users to load their files for 5 hours each month. The free package offers you the primary elements, and if you need enhancing scrutiny, you will have to move to a payable alternative.
Key Features of PodBean
Provides email inclusion in that you can automatically disseminate your multimedia files to your audience.
PodBean provides applications for both Android and iOS operating systems.
It allows you to use your domain for your sound file site.
An excellent user splashboard that makes everything easy.
It provides a costless YouTube edition of their Podcast.
Pros
PodBean is suitable for every user despite their level of expertise.
It allows you to commercialize your content by including adverts.
Available in Android and iOS operating systems.
Pod Bean allows you to personalize pre-designed thematic areas as per your wishes.
Cons
The customer care is not great.
The security arrangements are weak.
Your site has restricted operations to others.
PodBean Pricing
Basic: PodBean has a free edition with restricted elements.
Unlimited Audio: $9 per month.
Unlimited Plus: $29 per month.
Business: $99 per month.
PodBean remains to be an easy option in the whole process of Podcasts. Try it out!
3. Transistor
Do you want a hosting company that allows you to manage more than one Podcast all under a single account? If yes, Transistor is the number one option for your wish. These guys have been the newest to venture into the hosting industry.
What I love the most about the Transistor tool is that the costs depend on the transposes. If you want to increase the number of subscribers on your Podcast, this tool is for you.
Key Features of Transistor
It avails the ability to host more than one multimedia file under a single account.
Transistor gives you the ability to include the audio player on the site.
Transistor makes it possible to share your Podcast on social media platforms.
Transistor grants many users permission to your Podcast.
Transistor is very easy to use.
Pros
Excellent customer care.
Transistor simplifies the process of loading multimedia files to the site.
Transistor allows you to showcase your talent and scenes on social media platforms.
The tool allows for personalization.
Transistor grants many users authority to your Podcasts, e.g., editors.
Transistor grants you the ability to comprehend your audience.
Transistor allows you to decide on how you want your audience to listen. For Instance, you could privatize the status of your Podcast.
Cons
The tool is a bit more costly because you are charged depending on the transposes made.
Transistor has not been in business for long since it's barely three years old.
The platform tends to lean more on expert Podcasters.
Transistor Pricing
The beginner package runs at $19 each month.
The professional package runs at $49 each month.
The business package runs at $99 each month.
Do you want those remarkable analyses of your Podcast? If so, try out Transistor today!
4. Simplecast
Simplecast has been functional for close to 7 years, and it inevitably has a large mass of Podcasters. The most fantastic thing about this company is that their players found on the site are among the best players around. Simplecast supports some of the most famous brands we have ever had, including Facebook.
This company has mastered the trick of gaining an enormous follower mass via its unique element that allows you to disseminate your Podcasts on social sharing platforms.
Key Features of Simplecast
Simplecast allows you to conjoin with many Podcast organizers in a single account.
The simple cast gives you an outstanding ability to share on social platforms.
Simple user splashboard.
Readiness to publicize content immediately.
The quality of sound files is superb.
Simplecast allows you to comprehend your audience better via analysis.
Pros
Fantabulous analytics that is highly accurate
An excellent customer team
Simplecast is simple to use.
The graphics provided are of high quality.
Simplecast offers unrestricted storage.
Simplecast allows for many users on the site.
Cons
To use extra elements of Simplecast, you have to pay more.
Simplecast Pricing
The first package runs at $15 each month.
At $35 each month, you get everything in the first package and required gears for the Podcast.
At $85 each month, you get everything in the $15 and $35 packages, conjoining gears, and in-depth realizations.
Try out Simplecast today!
Captivate has been in existence for barely one year. Captivate company has always been working and releasing new versions gradually. Despite being a new company in the hosting industry, it is clear that Captivate has many followers
We all know that excellent history and expertise are not adequate to grab the attention of Podcasters. Therefore, captivate has vital elements that have done the magic.
Key Features of Captivate
Captivate provides an easy user interface.
Captivate offers Unrestricted Podcasts.
Captivate allows unrestricted teammates on the Podcast.
Captivate provides an automated Podcast system.
Pros
Captivate does not tamper with your files.
Captivate is Simple to use.
Captivate offers excellent guide skills for newcomers.
Captivate offers unrestricted sound file storage.
Captivate allows you to host many Podcasts at a single cost.
Cons
Compared to other companies, captivate is far much expensive.
Captivate Pricing
At $19, you transpose 12000 files each month.
At $49, you transpose 60000 files each month.
At $99, you transpose 150000 files each month.
Do you want to grab these crucial elements on Captivate? Try Captivate and experience the glamour!
Did you know that Spreaker is available on both the internet and mobile phone forums? This company has been around for close to ten years. They have thousands of enrollers who have their content hosted on the site.
Spreaker provides a free package for beginners.
Spreaker allows one to promulgate their content automatically on YouTube.
Spreaker provides one on one audio transmission.
Pros
It allows you to locate your listeners via the application.
Spreaker has one on one Podcasting.
It provides the ability to converse with the subscribers.
Cons
The Podcast commercialization option is missing.
At times the quality of skype is not pleasing.
Spreaker Pricing
Spreaker offers a free edition in which you can load sound files for five hours.
At $7 each month, you load 6000 minutes of Audio.
At $18 each month, you load sound files for a period not exceeding 500 hours.
At $45 each month, you load sound files for a period not exceeding 1500 hours.
In my opinion, Spreaker is a great site, especially when you are interested in commercialization. All the packages have integrated adverts that could help you earn from your Podcast.
7. Smart Podcast Player
Did you know that a Smart Podcast is a WordPress add-in that allows you to show your Podcast scenes on your site? This program has barely been in the industry for close to one year since being founded.
Key Features of Smart Podcast Player
Owns an integrated pushbutton that seduces your listeners to enrolling.
It provides the ability to personalize the appearance of your player.
Ability to regulate the pace at which a song plays.
Great customer support.
Cons
It offers enhanced components such as transpose pushbuttons.
Smart Podcast is suitable for the user.
Favors the listener by providing replay, next, and pace-changing elements.
Great customer care.
Pros
Free plans are unavailable.
Only works on WordPress sites
Smart Podcast Player Pricing
A $12 each month enrolment package is available.
A $97 each year enrollment package is available.
My take is that this add-in is excellent for those who use WordPress and is worth giving it a try.
8. Podcast Websites
Did you know that this site includes many services altogether? Podcast website integrates free Podcast hosting, hostname, and others.
Key Features of Podcast Websites
It provides search engine optimization tools.
It integrates various services altogether.
Multiple Podcast episodes.
It grants a simple personalized WordPress thematic for Podcasting.
It offers a free hostname.
Pros
Great customer care.
It provides a simple guide for beginners.
It does the backing of data each day.
Awesome site hosting.
Cons
The Podcast website is quite expensive for beginners.
Podcast Websites Pricing
A $97 package billed each month.
A$77 package each month billed yearly.
If you are a professional, well-established Podcaster, consider trying Podcast websites out. It's an excellent tool for you!
9. Audioboom
Audioboom has existed for more than six years. This company has recently risen to be more famous because of its role in Podcast commercialization.
However, for you to enjoy this, you have to achieve a play rate of 10000 in each chapter. After that, Audioboom grants you gear for making adverts for your program.
Key Features of Audioboom
Audioboom provides integrated players for your site.
Audioboom gives an in-depth comprehension of your audience via analytics.
Ability to commercialize your Podcasts.
Pros
Grants the ability to include your audio player on the site.
Audioboom is compatible with all screen dimensions.
Audioboom enables you to comprehend more about your enrollers.
Audioboom boasts of simplicity.
Cons
The customer support is not entirely remarkable.
Audioboom Pricing
The beginner package runs at $9.99 each month for each Podcast.
Isn't Audioboom a great Podcast service provider? Yes, it is indeed. Just take a look at the fair pricing rate and all the elements provided. Audioboom remains to be an excellent tool!
10. Castos
Could you believe that most people have come across Castos without knowing it? Yes, most people who create content on WordPress have come across this tool.
What Castos does is; provides the ability to commercialize your Podcast through enrollment. Castos loads your chapters on YouTube.
Key Features of Castos
Castos provides unrestricted memory for your files.
Castos will enable you to comprehend your audience better.
Castos is suitable for many platforms.
Pros
Castos is a perfect fit for WordPress.
The beginner package provides what you need for sound Podcasting.
Castos contains a free edition.
Cons
One has to spend more to convey video Podcasts.
Castos Pricing
The beginner package runs at $190 each year.
Video Podcast package runs at $490 billed yearly.
11. Spotify
Do you believe that Spotify has been in existence for close to 12 years? Most people have used Spotify to listen to music via portable devices. This application boasts about possessing thousands of enrollers.
Key Features of Spotify
Spotify gives the ability to listen confidentially to songs.
Enables a user to connect Spotify to other applications.
Ability to play songs automatically.
Transmit songs and Podcasts.
Pros
Spotify maintains excellent standards.
Purchasing an improved service of Spotify allows you to transpose 9000 songs daily.
It is available across all platforms, including Windows and Macintosh.
Cons
Spotify is expensive for new users.
The lyrics are unavailable in computer applications.
Spotify Pricing
Spotify has a free edition and a paid edition.
The paid edition runs at $9.99 each month.
Grab Spotify today and try out these fantastic elements now!
12. Podserve.fm
Do you wish to get a Podcast company that works to get your Podcast straight to your audience? If you have this kind of mindset, Podserve.fm is all for you. Pod serve offers to publicize your Podcast all for free, something that differentiates them from all other companies out there.
Key Features of Podserve.fm
Pod serve publicizes your Podcast for Free.
Two fortnight's free trial.
Podserve allows you to back off at any time.
Podserve doesn't inquire about bank cards.
Fast setup process.
The dashboard is suitable for the user.
Pros
Simple for beginners to use.
The signup process is fast.
Free for two fortnights.
Cons
Podserve does not possess more enhanced characteristics.
Podserve.fm Pricing
It has only a single package that runs at $19 each month.
Try Podserve.fm today and experience the services at a single payment package all along!
13. Podiant
Are you planning on beginning a Podcast and advancing it over time without much hustle? If you have that type of mindset, then Podiant is waiting to serve you big time.
Key Features of Podiant
Podiant offers natural ways of comprehending your audience.
The memory is unrestricted.
Customer support is superb.
Podiant allows you to show your work to your social media community.
Pros
You get free memory.
Podiant avails the ability to share your work with the social media world.
Excellent customer support is available.
The Podiant splashboard is great.
Cons
Most people do not get the free provision trial.
The audio manipulation via editing is not well enhanced.
Podiant Pricing
There is a free package.
There is a $12.99 each month package.
There is a $29.92 each month package.
14. Podcast Giant
Are you beginning your Podcast, or are you already established in the industry? Do you have Zero listeners, or do you have tens of thousands of listeners?
Podcast Giant is all-around serving all your wants despite the number of enrollers or the time you ventured into Podcasting.
Key Features of Podcast Giant
Terrific site speed.
Users can access a guide via their emails on how to get going.
Podcast Giant embarks on the backing of content each night.
Pros
Podcast Giant is easy for anyone to use.
Podcast Giant offers a guide on how to use the site.
Podcast Giant offers amazing thematic backgrounds for you.
Podcast Giant does not restrict the number of Podcasts.
Cons
Podcast Giant is pretty expensive for beginners and hobbyists.
Podcast Giant Pricing
Runs at $49 payable each month.
I believe Podcast Giant offers a great deal for anyone as long as you can manage their payment.
15. Backtracks
Are you tired of not knowing if your enrollers listen to your Podcasts after transposing them from the Podcast site? Do you want to move away from the old way of doing Podcasting?
Do you want to have a taste for modern Podcasting? If so, read more about Backtracks here.
Key Features of Backtracks
Backtracks have excellent ways of analyzing your enrollers.
A great splashboard that anyone can navigate.
Backtracks provide the personalization of site players.
Backtracks allow you to sell your content.
Pros
Backtracks are simple to use.
Backtracks allow you to personalize your site player.
Backtracks have fantabulous ways of analyzing your clients.
Cons
The customer care is not suitable for the least plan enrollers.
Backtracks Pricing
The package costs begin at $49 payable each month and extend to $249 each month.
Backtracks is an excellent Podcast site that has completely overtaken other Podcast companies by providing an in-depth analysis of all enrollees.
16. Megaphone
Megaphone, an Audio casting company, has existed for close to five years. Megaphone has thousands of enrollees who use their services.
Are you a big enterprise Podcast? If so, Megaphone offers you unpredictable services that will leave you amazed.
Key Features of Megaphone
It offers commercialization.
It allows you to integrate your adverts.
Megaphone offers in-depth comprehension of your enrollers.
Pros
Megaphone allows the commercialization of your Podcast.
It has excellent customer support.
Megaphone has enhanced analysis systems more than other companies.
Cons
Megaphone does not offer an automated show up of Podcasts it provides in Soundcloud.
Megaphone Pricing
Costs at Megaphone depend on custom quotes.
17. Whooshkaa
Do you want a hosting company that personalizes adverts on your Podcasts, depending on your audience and the type of Podcast you have? Whooshkaa is a company that entirely does everything for you, leaving you with fewer issues to worry about in your mind.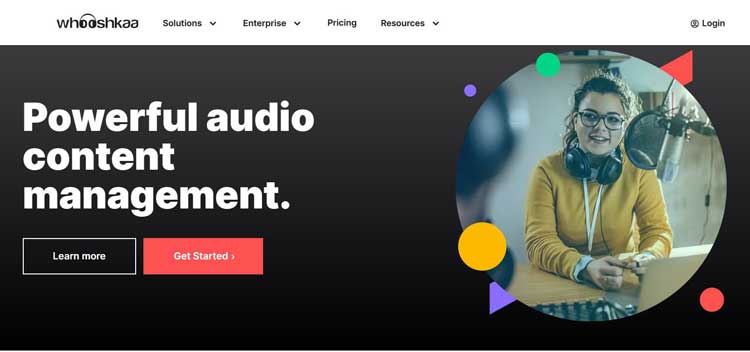 Try Whooshkaa today and experience the sweetness.
Key Features of Whooshkaa
Whooshkaa offers commercialization strategies.
Whooshkaa gives you security elements.
It allows for editorial manipulation of your Podcast.
Whooshkaa provides in-depth audience scrutiny.
Pros
Whooshkaa has a free package.
Whooshkaa is simple for the user.
Whooshkaa boasts of great customer care.
Cons
It does not provide a mobile device application.
Whooshkaa Pricing
Whooshkaa has a free package.
Another package goes at $99 payable each month.
18. Fireside
Fireside is a Podcasting company created by people who are Podcasters themselves. What I mean is that Fireside understands deeply what your needs as a Podcaster are. The ability to provide a solution to your Podcast problems is what Fireside offers.
Key Features of Fireside
Fireside offers a precise analysis of your Podcasts.
It provides you with an excellent site.
It provides the commercialization of your Podcast.
Pros
It provides you with a unique site.
It provides you with the correct analysis.
Fireside allows you to move your Podcasts from your hosting company without losing your enrollers.
Cons
The responsiveness of customer support is not stable.
Fireside Pricing
Fireside allows you to have a fortnight-free period.
It has a $19 each month package.
Try Fireside today and test if it matches your expectations!
19. Pippa/Acast
With barely four years in the Podcasting industry, Pippa has established the right name for itself. Pippa recently merged with Acast, but their services are excellent. They showcase the unexplainable crafting of a great hosting environment.
Key Features of Acast
Acast provides a free package.
Acast setup process is simple.
Acast is available across mobile platforms.
Pros
Acast has a handy free package.
Acast offers new Podcasts in different languages.
Cons
There is no ability to personalize audio plays.
Acast does not provide language settings.
Acast Pricing
They have a beginner package going for free.
Another package runs at $14.99 each month.
Another package runs at $29.99 each month but includes the elements in the other two payment options.
What are the best free Podcast Hosting Services?
The following are free Podcast hosting tools. Note that these tools come with restricted elements and functions.
In this section, Buzzsprout offers the most enhanced elements in its free package, unlike other service providers. Out of this non-payable package, you get two hours of loading content and three months' worth of hosting your content.
Buzzsprout allows you to load your suites, integrate them to various sites, and better comprehend your audience by using their enhanced analysis tools. Buzzsprout is best suited for beginners in Podcasting services.
Pros
Buzzsprout has a free package
BuzzSprout setup process is simple
Buzzsprout allows you to maintain your data while switching from other hosting sites.
Cons
The limited version is restricted.
Buzzsprout Free Package
Buzzsprout has a free package
The most expensive package goes at $24 payable each month
2. Libsyn
Note that Libsyn does not offer its services for free. Libsyn has been around for close to sixteen years. It has become famous over time because of their roles in aiding Podcasters to commercialize their products in a convenient time frame.
Libsyn offers you the ability to comprehend your enrollers more through their analysis tools. You can detect the transposes, the sharing made on the social communities, and your audience's origins. Libsyn allows you to personalize your player and publicize your Podcast on different platforms at a go.
Pros
Libsyn is well established in the industry.
Libsyn is affordable
Libsyn can get too many people since it conjoins with most podcast indexes.
Cons
Emerging companies have outsmarted Libsyn
Libsyn charges extra for analysis services
The lowest plan has frustrating loading restrictions.
Libsyn Pricing
Libsyn site charges between $5 and $40 payable each month. Please note that Libsyn could charge more.
3. Soundcloud
I bet you have heard about Soundcloud since it's very famous all over the world. Most people think that this is just an ordinary music website. However, different groups of people are using it to Podcast their shows. SoundCloud is quite different from other Podcast platforms because its elements are few.
When using Soundcloud, you have the chance of being spotted naturally on the sound cloud site. Your audience could also enroll to get news regarding your work. You could also choose to grab the more enhanced version of Soundcloud.
Pros
SoundCloud has a free package.
Soundcloud allows you to share your podcasts socially.
Soundcloud allows you to load both music and podcasts.
Soundcloud provides excellent tools for Disk jockeys.
Cons
There is no provision for music lyrics.
You cannot sell music straight to clients.
Soundcloud Pricing
The cost is free and extends to $12 when billed yearly or $16 when billed each month.
4. Podomatic
Podomatic has been around for close to fifteen years. The main goal of Podomatic is to prepare Podcasters and get them going to craft quality work for their listeners. Podomatic provides you with a moderate analysis strategy to help you understand your audience in depth.
They provide free memory for your files, not extending 500 MBs. Podomatic allows you to commercialize your Podcasts by offering options for that role. The dashboard is secure for everyone to navigate comfortably.
Pros
It allows anybody to craft and publicize a podcast.
Podomatic provides different listening options.
Podomatic has a free package.
Cons
The editorial tools are unavailable.
Podomatic only saves audio suites.
Podomatic does not allow you to add sound effects.
Podomatic Pricing
There is a free package.
The cost begins at $9.99 payable each month and extends to $24.99 payable each month.
5. Blubrry
Blubrry is an excellent Podcast site for both beginners and prolific Podcasters. Blubrry provides a leading add-in by the name "Powerpress." This add-in simplifies the process of running a Podcast one-on-one from your site in WordPress.
Furthermore, the add-in allows you to load your Podcast episodes straight to your Podcast hosting service provider. Therefore, you have the privilege of having your work show up on different devices and platforms, including (but not limited to) Android systems.
Pros
Blubrry Integrates a WordPress add-in.
Blubrry provides the right amount of audio memory.
Blubrry analysis is accurate.
Cons
It is not optimized for non-WordPress users.
Blubrry is costlier for the most operative users.
Blubrry Pricing
The cost begins at $12 payable each month and extends to $80.
6. RedCircle
The RedCircle has been in the Podcasting business for two years. The company aims at aiding Podcast beginners in advancing and enlarging their listeners.
A fantastic element of the Red circle is that it grants you the ability to locate programs on the platform and, in return, recommend another party's work. The red circle gives you free memory, integrates a site player, and provides you with the ability to showcase more than one program under one account.
Pros
Red Circle is free.
Red Circle provides sufficient storage.
Cons
Red Circle is new to the business.
How Red Circle funds its services while it offers free services is not clear.
RedCircle Pricing
The red circle is free!
7. Spreaker
Spreaker has been functional for the last ten years. Spreaker provides you with a free package that allows you to enjoy loading content for five hours each month. The one-on-one Podcast restricts you to ¼ hour period. The free edition does not allow you to commercialize your Podcast on their site.
However, they do not hinder your listening ability. The company has provided applications for Android, iOS, Windows, and Macintosh systems over time.
Pros
Spreaker offers excellent recording services for free users.
Spreaker provides one on one transmission.
Spreaker has a free plan.
Cons
The analysis lacks enhancement for free users.
One on One transmission depends on your payment package.
Spreaker Pricing
The cost of Spreaker begins from free and extends to $20 payable each month.
8. Anchor
One factor that distinguishes Anchor from all other sites is that it is free and restricts none of its elements. Anchor allows you to commercialize your content on their internet site. Furthermore, you can make recordings from your computer with no more than five persons.
Note that you possess the copyrights to your Podcast, but still, Anchor reserves the rights granted to them by their policies to share your work. I mean that Anchor could promote themselves using your content because their systems allocate them this authority.
Advantages of Anchor Podcast Hosting
The Anchor is free.
Anchor provides free memory.
Anchor allows you to monetize your content.
Disadvantages of Anchor Podcast Distribution
Anchor restricts an account to one Podcast.
Anchor application may freeze on several occasions.
Anchor Pricing
Anchor is free
9. Podcasts.com
Podcasts.com gives you unrestricted memory for all your files and free transposes. The company also gives you a free site, and an integrated free player into the site. Podcasts.com has designed mobile device applications that make it simple to follow the show.
The company also allows you to commercialize your content on their site, which is incredible. However, I must warn you that the customer care responsiveness rate to queries is not great. Since Podcast.com is free, you could put it into the weighing scale and decide if It works for you.
Pros
Podcasts.com is free.
It has mobile device applications.
It allows you to commercialize your content.
Cons
Podcasts.com's customer care is not great.
Podcasts.com Pricing
Podcasts.com is free
Did you know that most people think that Squarespace is entirely an online business site? Did you know that Squarespace provides Podcast distribution services? Yes, Squarespace is a site that allows you to have such exciting elements with you.
If you make a payment to Squarespace for you to have an internet site hosted by them, you will acquire the chance to integrate a Podcast without paying. The company also allocates an audio player on your network site. Try out Squarespace and get to learn more about it.
Pros
Squarespace has great customer care.
Squarespace provides mobile applications.
Squarespace avails the ability to blog.
Cons
Squarespace only deals with audio.
Squarespace is only suitable for small podcasts.
Squarespace Pricing
Squarespace Charges $216 each year.
What is Podcast Hosting?
Podcast hosting is a provision that makes it possible to preserve various audio episodes and, at the same time, provides all multimedia related to a Podcast. This provision is made available via Podcast hosts that help you save your audio suites and disseminate them to various indexes such as Google Play.
What this means is that when a user enrolls in your Podcast channel, the hosting service provider will, in return, share your sound and multimedia files with them. The sharing of the data will be done immediately with the client, and hence you will not be involved in the process.
It is crucial noting that sound files meant for podcasts consume much space. Hence, having your sound files hosted is a critical step in the whole process. Further, these service providers have many enhanced characteristics that will significantly optimize your content. Podcast service providers vary depending on the different personalities that they portray. In the next section am going to describe the best Podcast hosting websites available.
How do I Choose from The Best Podcast Hosting Sites in 2021?
Are you confused about how to select the best Podcast sites? Read the following tips to get going.
Evaluate the customer care panel
Have you ever run into a problem with your Podcast? Do you remember how stressed you were at that time? Did the customer team solve your problem in a time-efficient manner? Before venturing into a hosting site for your Podcast, review the company's responsiveness to the company's customer care team. You can do this by checking online reviews done by other users to avoid landing into trouble. A good customer care team is critical for your success as a Podcaster.
Compare the elements
Every hosting site has what makes them different from the others. All these elements vary depending on many factors, such as prices. Look out for the most surprising aspects you wish to have for your Podcasts.
For example, you want to find a site that does not restrict you on the number of uploads you have to make. Therefore, find out which site matches your expectations and Podcast needs.
Look for a site that has enhanced audience analysis strategies.
Do you want to comprehend more about your enrollers? Do you wish to track all the happenings that occur around your Podcast? Are you tired of not being able to locate your audience concerning their origin?
If you have all those issues, then it is great that you take your time to evaluate different sites based on their ability to answer the above questions. An excellent hosting site will always provide you with more data to comprehend more about your listeners.
Ability to commercialize your content
Everybody wants rewards for what they take time in doing. Always research whether the hosting company will agree to your plans of commercializing your work.
Once you spot that a company is not ready for your projects, it's better to find another site. Commercialization is a new development that is worth noting as a checkpoint in determining an excellent hosting company.
Understand your storage requirements
Podcasts consume much memory. The majority of the hosting sites restrict the rate at which the hosting site stores your media. For Instance, a company could provide you with only 4 hours of loading content each month. This scenario may end up creating trouble for you later on as you expand your Podcast. Therefore, find a site that provides you with the memory size that comfortably accommodates your Podcast requirements.
What are Podcast Directories?
Have you ever transposed a game on the Apple store or Google play store straight to your portable device? Have you ever transposed a Podcast show from an online site to your gadget? If you have, then you understand what Podcast directories are all about at the primary level.
Podcast directories are programs that accept your Podcast file, transpose it to their site, and showcase your Podcast's most recent chapter to your audience. In simple terms, the directories grant your followers the ability to locate your Podcast by use of their gadgets. Examples of those gadgets include (but are not limited to) Desktops.
What Podcast Platforms should I publish my Podcast on?
This section focuses more on how you disseminate your Podcast content to your audience. Once you load your Podcast episodes on your hosting site, the site will, in turn, lead your audience to your content via Podcast directories. The following are some of the top-rated best podcast platforms.
1. TuneIn
TuneIn has risen to be a famous Podcast site with millions of followers all over the globe. TuneIn provides one on one sporting action, songs, and bulletins. TuneIn is a great competitor for other Podcast platforms.
Here is how to load your Podcast on TuneIn.
Sign up at the TuneIn page by Filling up the agreement.
Provide all the data regarding your Podcast.
Agree with their policies.
Press on the submit button.
Stand by for acceptance.
Try out using TuneIn today, and the process is simple and straightforward. No wasting of your precious time!
2. Google Play store
Have you ever used a mobile device with the Android operating system? Have you done transposition of an application from the Google play store straight to your device? If you have done this, I bet you did not know that you could load your Podcast on the Google play store. Yes, Google play boasts of a large mass of followers, probably billions of people use it. Recently the application came up with Google Podcasts that allow you to find accessible Podcasts.
Here is how to load your Podcast on Google Play
Confirm you have a functional Google account.
Sign in by use of your Google account.
Navigate to the music section and press the "Add a Podcast."
Put your Podcast's RSS feed.
Press the "submit" button.
Look into your email's Inbox and authenticate that you own the Podcast.
Press the "publish Podcast button."
Wait for the acceptance.
3. Stitcher
Could you believe Stitcher has been in existence for close to 12 years now? Yes, these guys have been around for all that period.
They have millions and millions of followers around the globe. Stitcher is more known for its role in providing one on one radio broadcast services.
Here is how to load your content on Stitcher:
Sign up for your profile as a content supplier.
Get access to your new account and press "Add show."
Put your "Podcast's RSS feed."
Wait for the acceptance.
Try Stitcher out and put it on the weighing scale and decide if Stitcher will work for you.
iTunes has overtaken all the other Podcast hosting services by providing simplicity in loading Podcasts to their platform. Simplicity has transformed iTunes into a big name in the hosting industry with many loyal customers worldwide.
Here is how to load your Podcast on iTunes.
Get your Podcast ready by recording.
Provide all the data regarding your Podcast.
Decide on the best Podcast hosting platform that you want, e.g., you could decide on using Blubrry.
Get your Podcast's RSS feed given to you by your Podcast hosting platform.
Transpose iTunes to your device and sign up for an account in their platform.
Load your Podcast to the platform.
Standby for acceptance.
What is the Best Podcast Equipment?
Are you ready to begin your Podcast services? For you to be a successful Podcaster, you have to work with the best tools available. At the most basic level, any Podcaster has to own a desktop and a good Microphone. In this section, I have provided the best tools you need to rock and roll in the Podcast Industry.
They include:
Blue Yeti has always worked for me better than any other Microphone brand. I recommend it a 101%
I once saw my friend, who was a beginner in Podcasting, use the integrated desktop Microphone for his Podcast. The result was terrible and frustrating. Electric megaphones are more fit to serve many participants. On the other hand, the condenser Megaphone works best for individual use.
The most excellent wireless Megaphone that I recommend is "Blue Yeti," which is part of the condenser genre.
On the Wired Megaphone, I endorse "Neumann BCM 705," which is part of the dynamic genre.
2. Apple MacBook Pro 15
The laptop works without giving you sleepless nights.
I remember some time ago when I began Podcasting. And so I had an old laptop that I had used for over ten years! One day the computer just crashed because it could not support the audio program I had installed on it.
What am I saying? Am saying that you ought to have a good laptop for the job. Confirm the manufacturing date of your desktop to be within the last two to three years ago. Also, evaluate and confirm if it can support your audio program.
I highly recommend that you use "Apple MacBook Pro 15″, it works for me and my Podcast needs.
For high-quality webcams, I recommend "Logitech BRIO 4K" webcam
Podcasting requires a high-quality webcam that can grant you satisfactory results. You can use your webcam to record your Podcasts and load them to YouTube. Most of the cameras used for webcam roles are very expensive. But, you only need to grab one that fits your requirements and portrays the professionalism in you.
Hence, "Logitech BRIO 4K" webcam will be a great fit for you in your webcam needs while providing quality outputs all for you!
For audible and high standards of Audio, grab yourself these great headsets.
Did you know that your audio standards influence most listeners in deciding whether they want to listen to your Podcast? When choosing Headsets, always look out for headsets that will give you high-quality Audio. You do not want to buy a pair of headphones that allow echo from your headphones to get to your Megaphone. That is the main reason why I strongly advise that you find the pair I have recommended.
Favorite Mixer for Podcasting.
Mixers are known to control many things in a Podcast. For example, Mixers regulate effects, volumes, and echoes. If these factors are left uncatered for, they could end up ruining everything. Above all, they could make you appear unprofessional. Hence, you need to grab a sound mixer for your Podcast to avoid regrets.
What is the Best Podcast Software to Record your Webisodes?
After learning the tools you need to make a Podcast, let me explain the different programs you can use to record your services. A useful freeware is vital in crafting a killer Podcast all for you.
Below are the programs I recommend for your Podcast.
1. Audacity
The Audacity site is a great tool that has been in existence for years. Audacity is available for Windows, Linux, and Macintosh operating systems. One thing that tends to discourage people from using this tool is the old-fashioned user dashboard. Audacity is one of the most excellent audio hosting software that you will ever come across in the Podcasting Industry.
Pros
Audacity is completely free.
Audacity provides high standards of sound files.
All forms of audio data are compatible with the software.
Cons
It bears an old-fashioned user dashboard.
The speech editorial elements are not advanced.
Audacity Pricing
Audacity is free of charge.
2. ZenCastr
Unlike Audacity, Zencastr is internet-based. That means that you do not have to go through the downloading and installation process. What I love most about ZenCastr is that it gives you the ability to carry out inquisitions online. All the interrogations you make through ZenCastr go through automated editorial manipulation, and hence you never spend time doing it by yourself.
Pros
ZenCastr is internet-based; thus, no downloads are needed to use it.
ZenCastr avails automated editorials for all the dialogues.
Zencastr grants users the ability to talk one on one via the platform.
Cons
Restricted functions are available on the free edition of ZenCastr.
One is unable to disseminate a recorded sound file straight to the audio hosting sites.
ZenCastr Pricing
ZenCastr has a free package.
A paid package begins at $20 payable each month.
3. Ringr
Ringr is available in various operating systems, including Android and iOS systems. Ringr is slowly becoming famous among Podcasters to conduct interviews for participants in different geographical locations. Ringr makes this possible by allowing you to strategize for an interview and then perform it through its site. The app will begin recording your conversation, and once done, it goes through automated editorial manipulation. Afterward, it will be loaded straight to Ringr site.
Pros
Podcasters can carry out dialogues and inquisitions online without being in one place.
Ringr does not restrict the calls you conduct.
Ringr has a fast transposition system.
Cons
The standards of your Podcast have a basis on the package you chose. I mean, the lower your payment, the more inferior quality you get.
Ringr never offers editorial elements since it does it automatically. Hence, you cannot do it yourself.
Ringr Pricing
Ringr charges begin at $7.99 payable each month.
4. GarageBand
GarageBand remains to have a substantial follow-up all over the world among different types of Podcasters ranging from beginners to prolific once. All this is because GarageBand provides vast sound recording elements all for free.
Pros
The garage band provides enhanced sound editorial elements.
GarageBand is free for use.
GarageBand is available in Macintosh and iOS operating systems.
Cons
GarageBand does not support Windows systems.
The user interface is not great for new users.
GarageBand Pricing
GarageBand is free of charge.
What are the Benefits of Podcast Hosting?
You could be asking yourself what the big deal with Podcasts is? Why do I need them in my Podcast? Well, you need audio hosting for many reasons that include the following:
1. You get an assurance of High standards Quality
Have you ever noticed that individual sites tend to have minimal memory for use? I once tried hosting my Podcast on my server, guess what happened. The output Podcast was a real nuisance and a significant waste of time. That is when I comprehended how critical I needed a Podcast hosting company to hold my hand all along my journey.
Podcast hosting companies are capable of supporting large sizes of Podcast suites. At the same time, they preserve high standards of quality. Hence you need a Podcast company to help you all along.
2. You get high Speeds
Speeds are critical in establishing an excellent follower community. That is what happens when you have optimized rates for your Podcasts. First, a user will click on your Podcast and wait for 40 seconds for it to load. If your Podcast consumes more than that time frame, then you will be doomed. Your followers will lose interest in your services one by one while viewing Podcasts your contenders provide. The situation is not great, and you do not want that to happen to you.
Making use of a hosting company dedicated to serving you around the clock will avoid such instances. These companies will often terminate issues with momentum giving you a smooth operation.
3. You get reliable Interpretive data
Have you ever wanted to know the location of your audience but could not? Have you tried discovering if your audience listened to your Podcast or not? Do you want to learn if your audience loves what you are doing?
Podcast hosting companies will grant you tools to track all the details you want to know. They will aid you in comprehending your audience in a better manner. These companies will give you the chance to improve on all your failures. Always use the details you obtain from the sites in a wise way that will eventually differentiate you from everybody else.
4. Plenty of safety for your Podcast
Are you aware that hacking is one of the most significant challenges facing Podcasters today? Have you ever heard people complaining of being attacked online through hacking? Have you ever been hacked at one time or the other?
You will agree with me that you need enhanced security elements to avoid this horror. Furthermore, controlling your safety will cost you much money, and indeed you will be left struggling to compete with your counterparts.
Hosting companies provide you with all the elements and tools to keep you safe and secure. Those elements are automated, and you do not have to worry about losing your services. Your sound files are protected, giving you the peace of mind you need to outshine your competitors.
5. You get to cut expenses spent on memory
Over time I have observed that the rate of memory consumption is directly proportional to the number of your audience. I mean that as your audience keeps on enlarging, the more space you ought to have on your site. Hosting your Podcast all by yourself will leave you dry and tired on the verge of giving up.
On the contrary, hosting companies will always give you a solution to this problem. However, I must warn you that this privilege dramatically depends on the package you use and the type of company. For Instance, a Podcaster using a free hosting service is prone to be restricted in space, while a Podcaster who pays for open space on another side will have no trouble.
How to Start a Podcast?
Are you thinking about starting a Podcast? Are you confused about where to take the first action in achieving your dream? Do you believe you could make a big name for your brand if you have the will to begin? If so, read this section carefully as I give you insight on venturing into Podcasting.
1. Decide the genre of your Podcast
What is it that you want to talk about and let the people know? Do you want to talk about religion? Do you want to talk about entertainment? Do you want to talk about technology? Note that you have to decide what it is that you want your show to tell and show.
Always choose a subject that you feel comfortable speaking and showcasing. Take an item you will not lose momentum as the going gets tough.
2. Derive a captivating name for your Podcast
A name is critical to your success as a Podcaster. Have you ever looked at a name on a particular Podcast, and you lost your curiosity? Well, that is just how important you need to have the right name for your show. But, a good name has to come from the topic your presentation is all about. Never make the mistake of choosing a name that does not match your item. Some Podcasters made this mistake, and they never lived to tell the tale.
3. Integrate a Cover Image
Did you know that images have a way of seducing people? Yes, the right cover Image that matches with your Podcast subject will do the unthinkable. The picture has to be seductive in that it attracts people to find more about your show and what you offer.
There is no need to panic because most hosting companies will solve that problem for you. However, that does not limit you if you want to personalize the image to showcase your Podcast more.
4. Craft some thematic music
One of the mistakes made by Podcasters is beginning their Podcast on a flat, annoying level. The main aim of a Podcaster is to grab the attention of the audience. If you mess up in this first step, I am afraid that you will have failed terribly. You will not be able to compete with other Podcasters, something you wish not to happen.
A 6 seconds seductive thematic music at the beginning of your Podcast will do the magic. You will have people listen to your Podcast without them intending to look! That is just how great these songs are in terminating the boredom.
5. Acquire the needed Gadgets
You will need to have some gadgets for you to venture into Podcasting. Primarily you will need to have the following tools:
A Computer or Laptop.
A good Megaphone.
You need a great hosting company for your Podcast.
When choosing the tools, always go for the one with the best features despite the price. Make sure to select wisely the tools that work best for you. You could also view the section on this blog about the best equipment for Podcasters and make your decision.
6. Begin recording and upload your content
Once you choose the best tools for Podcasting, it is time to craft the first fantastic show. The techniques you want to use to record your work have their basis on the content you are crafting. You need to seduce your audience into listening to your show hence provide something different from the others.
Before recording, always make arrangements regarding all the steps, you will make. Comprehending your audience will save you the time and effort in your crafting. When everything is perfect, you can now upload your content to your hosting site. Congratulations, you just made your first Podcast!
Podcast Hosting FAQ
Should I go for paid hosting or free hosting?
Please note that many sites will claim to give you excellent services all for free. However, quality is directly proportional to price. Hence, a free site may not meet your expectations, but the paid ones will provide you with pure Gold.
Should I earn from my Podcast?
Yes, commercializing your Podcast is one of the ways to earn a stable income. There are numerous ways to do this. For example, you could integrate adverts on your Podcast hence making some cash. However, some platforms limit Podcasters on this, and therefore you have to choose your hosting site carefully.
Why do I need Podcast Hosting?
You need Podcast hosting companies to preserve your files, grant you security, and disseminate your content on other sites such as Google Play.
I love talking, can I become an excellent Podcaster?
Yes, you could make it in the Podcasting industry. Note that it takes a lot of patience, hard work, and quality content to craft a good brand for yourself. Aim at solving the problems of your audience. And you will become a big brand in the industry; above all, be dedicated to what you do.
Conclusion
Phew! There is everything you need to know about Podcasts. I recommend that you conduct thorough research to find out what works for you. Remember to create something that makes you unique and narrates what you want. Above all, behold expectations. Good luck!