This article will help you decide on the best copywriting software.
Let's admit it, formulating an alluring message is an essential part of marketing. This is why you need nothing but the best copywriting platform to assist you in outlining, drafting, and delivering your message convincingly.
A commendable copywriting tool can flesh out your content and assist you in upgrading your marketing. Not to mention that the software can save you a lot of time while reflecting your company's value.
In this article, we are going to get familiar with the top-rated writing software in 2022.
Along the way, we will also compare their prices and get to know what features each tool has to offer.
Let's jump right in.
What is the Best Copywriting Software?
Grammarly is one of the top-rated writing tools in 2021 that helps you modify your content. But that's not all. Grammarly fixes grammar, punctuation, and spelling errors at a glance. In addition, it is easy to download and use as well.
Check out: Grammarly review
Grammar and spelling checks
Vocabulary improvement
Plagiarism detector
Pros
Grammar correction
Simple explanations
Easy to use
Cons
Works on specific platforms
It has a limited free version
Free
Premium starting at $12 per month
Business starting at $12.5 per month
Are you looking for a marketing copywriting tool that offers a premium style and grammar check with in-depth relationships? You may want to begin using ProWritingAid.
Grammar and spell-checker
Analyze your content's readability
Foresee sentence lengths and variations
Get repeated words
Pros:
Offers more than twenty different reports for the improvement of your content
Compared to Grammarly, it is cheap
It is compatible with Google docs
Supports more integration options
Cons:
No mobile application
It only has a chrome extension

Sign Up for Free
It's another brilliant copywriting software for verifying spelling, grammar, punctuation, and your writing style. In addition, WhiteSmoke makes sure that each document you write is error-free and precise.
Key Features of WhiteSmoke:
Dictionary / Thesaurus
Grammar Check
Plagiarism Detection
Punctuation Check
Pros:
Cheap compared to Grammarly
Easy to use
Mobile-friendly application
Cons:
It has a slow customer service
You must have the internet to use it
Has no free plans
WhiteSmoke Pricing:
Web Edition: $59.95 per year
Premium Edition: $79.95 per year
Business Edition: $137.95 per year
Are you looking for the best drafting software that will make your writing magnetic and clear? It's time to get started with the Hemingway App. As a tool, the Hemingway Editor helps you create your self-awareness as a writer.
Key Features of Hemingway App
What's more, this writing tool gives you information such as:
Your content's grade level
Highlight sentences that appear hard or very hard to read.
Ability to identify words with alternative synonyms, etc.
Pros:
Has an easy to use interface
Has both an online and a desktop version
Cons:
No in-depth grammar or spelling checks
You cannot back up your content if you are using the online version.
Hemingway App Pricing:
The online version is Free, and the desktop version costs $19.99
5. Ginger
Let's say you have problems with your grammar; Ginger has advanced technology that detects spelling and grammar errors in your content. Furthermore, this writing app analyzes your sentences thoroughly, unlike other grammar checkers that examine your content word for word.
Key Features of Ginger Software
Some of the primary features of Ginger include:
Error analysis
Grammar checker
Sentence rephrasing
Translation
Text reader
Dictionary
Pros:
Ginger is easy to use
Has a chrome extension for an enhanced experience
It is available on most platforms
Has features that check and correct your spelling and grammar.
Cons:
Compared to other grammar checkers, Ginger has a higher price range
You can't directly access Google docs using this tool
Ginger Pricing:
If you are looking for the best writing tool to spice up your words and make your content more eye-catching, you should use Thesaurus.com. But what makes it a better copywriting tool is the fact that it has a built-in writing tool that automatically swaps your words with the most favorable synonyms while also checking your grammar.
Key Features of Thesaurus
Let's have a look at some of its main features:
Synonyms
Antonyms
Grammar checker
Pros:
Time-saving
Helps make your content magnetic
This tool enables you to avoid dull text
Cons:
Vague phrases may cause convey an opposite message.
Thesaurus Pricing: 
Free with limited features. Paid plans:
Google docs is an all-in-one storage solution that lets you, as an editor, create presentations, text documents, and spreadsheets. Moreover, this best writing software allows you to access the documents anywhere as soon as you connect to the Internet.
Key Features of Google Docs:
Invite other people to collaborate on a document with you
Collaborate online in real-time with this best free copywriting software
Download as a Word, OpenOffice, RTF, PDF, HTML or zip file
Pros:
Easy to use
File sharing
Access your documents from anywhere
Cons:
Doesn't offer a personal directory
Not supported on all platforms
Google Docs Pricing:
Free
GSuite: Paid for business users
Bonus: Best AI Writing Softwares
You may use these tools to create an overview or initial draft.
What are these tools suitable for?
Website: Landing Pages, Sales Page, Headings, Meta Title and Description
Social Media: Facebook & Instagram Ads, Google Ads, LinkedIn Ads, Social Media Posts, Youtube Title, Description & Video Scripts
Blog: You can create a blog post, but it is not recommended. You can try creating intro and outlines of the blog posts, summary, content for syndication
eCommerce: Product Descriptions, Sales Emails, Newsletter
Marketing: Sales Letters, Standalone Email and Email Campaigns, Testimonials, Opt-In Pages, Webinar Scripts, Upsells and Downsells, Review Scripts, and Phone Scripts.
Note: Don't use it for creating blog posts, website content, or anything similar.
Let's find out the top-rated AI Copywriting tools.
Conversion.ai
Rytr.me
Funnel Scripts
Copy.ai
Nichesss
Article Forge
Snazzy.ai
Kafkai
Headlime
Writesonic
What is a Copywriting Tool?
As you may already know, copywriting is the mechanism of creating enticing marketing and promotional materials that motivate clients to take some form of action. For example, clicking on a link or making a purchase.
With that off the wall, copywriting tools are software that helps you make the best out of your marketing journey while also assisting you to save time while at it. But why should you use these tools?
Let's take a closer look at some of the benefits of using copywriting tools.
Benefits of Using Copywriting App
Did you know that the blog contents published by your organizations are harmoniously known as a copy?
And a person dedicated to writing these copies is known as… Copywriters.  But to make these copies worth spending money on, professional copywriters use some of the best copywriting software to make them attractive.
Well, if you have not jumped on this lucrative side of marketing, you are missing out on the best marketing journey, and you should either hire a professional or opt to do it by yourself to enjoy benefits like:
Presenting quality content to your audience
Saving time
Generating a convincing and magnetic copy
Enjoying stress-free web optimization
Connecting with budding customers on a variety of scaffolds
Acquiring fresh eyes on your industry
Doing away with blatant spelling mistakes and grammatical errors.
Now that you know the benefits of copywriting tools, let's look at why copywriting is essential.
Why is Copywriting Essential?
Okay, poorly written copywriting can do more harm than good to your business and be even more detrimental to your site. This is why you should always have top-notch copies. And for this reason, we'll only talk about gratifying copywriting.
Unquestionably, good copywriting is essential because it earns a Return On Investment (ROI) and presents you with profitability while also seeing your business goals. And how does this happen?
Well, a good copy achieves the above goals by convincing clients that your products are what they have been searching for and that their problems will be solved while offering them value.
By muzzling robust copywriting, you can generate super-duper business benefits:
Providing answers to your clients on the frequently asked questions (FAQs) section.
Offering informative and exciting information.
Giving a sneak peek at your advert copies.
Involving clients while entertaining them using your video clips.
But there's more; your copy should connect with clients personally and offer them a value that exhilarates action. Let me explain.
As a business, your main goal is to interact with the audience and give them a chance to make favorable decisions. Agree? Okay, with a good copy, you can hit the nail on the head by showing your clients how your product will make a consummate difference in their lives. And you should note that if your copy doesn't do this, then it has no purpose.
Okay, what makes good copywriting?
Let's find out.
What makes excellent Copywriting?
I'll accede that copywriting is an essential part of Conversion Rate Optimization. With that said, what works for you might not work for me. That is why as a copywriter, you must be familiar with different styles to suit you best on various occasions.
Here are some of the styles that you should be familiar with:
1. Landing pages:
Suppose you decide to go with this style; you will be inclined to feature direct sales copy by pinpointing the benefits a client can gain from a service or a product. Not to mention that high-converting landing pages are built on fascinating, clear value recommendations.
2. Product pages
This style is suitable if you want to use the passive voice and focus mainly on information while packing details like sardines into a pint-sized text. This writing style can prove to be effective since customers neglect a purchase because of niggardly content. Additionally, A/B testing has also demonstrated that product descriptions can increase sales willy-nilly.
3. Emails
Like landing pages, this style involves a more conversational tone while also focusing on benefits for your reader. You can increase open rates up to 50% by personalizing the subject line before sending the email.
4. Blog articles
If you prefer reaching your audience in a friendly and less formal way, you should opt for this style. Blog articles emulate their subject matter; while nicely communicating to their audience.
Professional marketers apply contrasting styles to uphold their brands. Using these best-copywriting sites will boost you to put together high-standard content with minimum effort and time.
Now let's jump right into some of the best copywriting app that will help you in your topic researching process.
Tools for Researching your Topic
It's that time of the day you are ready to start writing, but as soon as you sit in front of your computer, everything in your head evaporates, and now you are just sitting there hysterically thinking about what topic to write about. Of course, you want that viral topic, but you don't know where to start.
What if I told you that it doesn't have to be like this? Legitimately, topic research can be a straightforward process and should leave you galvanized and motivated; instead of wasted and deflated. Here are some of the best copywriting software in 2021 to help you make topic research a walk in the park.
If you are looking for a copywriting tool that parades how many times a topic has been searched in the past months, Google Trends will suit your basket. I know that this might not sound mind-blowing, but wait until you try it.
This tool informs you about seasonal trends in your niche or on various products. But that's not all; you can also use this tool to nose out competitors by keeping an eye on their positions.
On the other hand, Google Ads (formerly Google AdWords) is the tool you want to run to if you need to feature SERPs and create Display Ads for your business. You can also use this tool if you don't have a business but want to perform audience research.
Compared to Google Trends, Google Ads show you an inclusive number of searches for a particular keyword in all regions. And is the best copywriting tool to use if you want to write about a popular topic.
Key Features of Google Ads:
Keyword Suggestions
SERP Rank Tracking
Link building
Backlink monitoring
Competitor analysis
Pricing: Free
3. BuzzSumo
Are you looking for the best copywriting software for content marketing?
Well, BuzzSumo is designed by someone like you in mind. This tool presents you with the power to see the most shared content in your niche. Additionally, this tool also presents you with the tool for doing keyword research.
News flash! You can also use this tool to find the most influential pages, channels, and websites for your organization.
Key Features of BuzzSumo:
Content analysis reports
Complete social network overview
Open API
Author tracking & notification
Link alerts
Content insights
Influencer amplification
Personalized dashboard
Competitor analysis & comparisons
Advanced filtering
Content curation
Pricing:
Save 20% for yearly plans.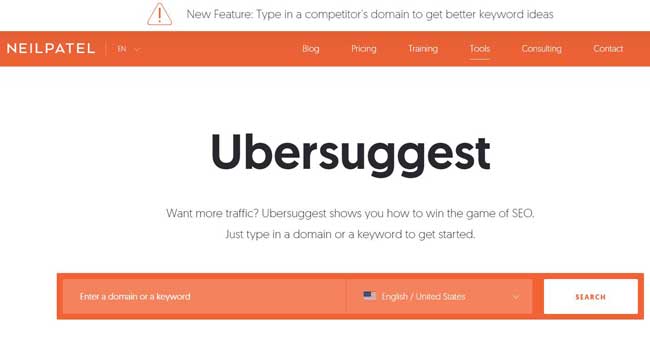 This is one of the best free SEO suites offered by Neil Patel, one of the best digital marketers.
UberSuggest will favor you if you write web pages, SEO blog posts, or any other copy needed in the digital marketing world because it shows you:
Search data
SERP rankings
Technical details about your competitors
But that's just the tip of the iceberg; Neil Patel also made sure that you can find suggestions for prepositions based on the keywords you search for using the "Keyword ideas" feature.
Key Features of UberSuggest:
.Here are some of the features that you might find while using this best copywriting software:
Organic Keywords, Monthly Organic traffic
Domain Score, Backlinks Score
Site Speed
SEO Checker, SEO Analyzer, Content Ideas
Top SEO Pages, SEO Keywords, Top Traffic Pages
UberSuggest Pricing:
Individual: $12 per month & $120 one-time
Business: $20 per month & $200 one-time
Enterprise / Agency: $40 per month & $400 one-time
Suppose you have used Goodreads before, you must be wondering why an online catalog of books and literature has been listed as one of the best copywriting software. Right?
Well, apart from being an online library, this copywriting tool provides you with previews, and not only Google books preview. Additionally, you will get lots of user-generated collection quotes. This means that you can quickly search for quotes in a specific publication while sorting the options with filters.
Key Features of Goodreads:
You can add extra shelves for additional reading statuses
Easily join the annual reading challenge
You can automatically track Kindle reads by linking your Amazon account to Goodreads.
Actualize tags to trace each year's audiobooks, books, or read-aloud (as well as custom collections
You can easily share your notes and highlights
Trace reading stats
Pricing: Free
Have you ever wondered how people behave on your website?
If your answer is yes, Google Analytics is the tool you want to settle for because this best copywriting software presents you with information on how your audience behaves. Additionally, it also shows you which of your marketing platforms attract more visitors.
In contempt of being one of the best digital marketing tools, Google Analytics has also been earmarked, making it a suitable copywriting research tool. You can also combine it with MonsterInsights to easily export GA reports.
First off, this tool presents you with detailed demographic data on users who visit your site, including:
By finding out about your audience, you can vary your tone to reach your audience on a more personal level.
My most amazing Google Analytics feature is the insight that it provides about your audience's interest. Knowing what captivates your audience, you can always write a copy that you are sure will put a smile on their faces.
Key Features of Google Analytics:
Sessions- Digital analytics
Entry and Exit Pages
Standard Event Tracking
Custom Reports and Dashboards
Site Search Reporting
User, Role, and Access Management
Pricing: Free
If you have ever wished to research your audience, you should use Google Search Console. This console gives you the power to keep track of your performance on Google's search network. Plus, this console also shows you how your content ranks by search term or by page.
My most favorite feature that suits a copywriter is the "Queries" tab. This shows you the keywords that users search for in google to find your website. With this in mind, you can optimize your content to match your users' needs.
For instance, if your audience searches for "best copywriting software", it's easy to know what your audience demands and come up with a copy that targets these demands.
Key Features of Google Search Console:
Keyword Analysis Through Search Queries.
Assess User Interaction.
Page Positioning in Search Results
Submit Pages for Indexing
Sitemap Submission
Mobile-first Indexing
Penalty Reviews
Now that you know of the best copywriting software for researching your topic. Let's go ahead and answer some of the frequently asked questions about copywriting software.
Pricing: Free
Copywriting Software FAQ
With an annual salary of $75,211, copywriting is one of the most lucrative fields in the world now. But you should also note that copywriters stand out because they use some of the best copywriting software in the world to help them reach their goals.
If you are new to copywriting, you must be having many questions. Right?
Well, here are the two most asked questions concerning copywriting:
1.   What software do copywriters use?
Copywriters use many tools to ensure their content drives more traffic and convinces many customers to take actions like purchasing an item or clicking on a link. Some of the tools are:
Google Search Console
Google Analytics
Goodreads
UberSuggest
BuzzSumo
Google Trends
2.   What makes good copywriting?
Even though some may argue that good copywriting is all about creating a good call to action (CTA), your audience should be your goal. Suppose you understand your audience target; you will have what it takes to create informative, engaging, and triggering content for your audience resulting in more action. Good copywriting software makes it easier to prepare standout content.
Conclusion
Producing an incredible copy is possible, so don't let anybody tell you otherwise. But you still have to put in a lot of energy. All you have to do is make great use of the tools in this article and trust your gut. Finally, always keep in mind that a whole audience is a towering test.